Program in Psychological Studies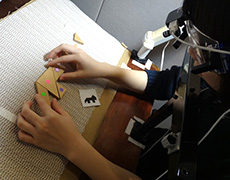 This is a course that explores the "Science of Mind" and develops talented individuals to support communities.You will acquire knowledge of psychology as a solid foundation for learning, and at the same time, you will build up your practical capabilities both in and outside the classroom.
Characteristics of the course
Systematic learning from the basics to practice
In this course, we pay our attention to the workings of the human mind while systematically learning basic theory, experimental and statistical methodology, and basic interviewing techniques for a wide range of fields in psychology. You will also develop the ability to apply this knowledge.
Into communities with "Science of Mind"
In this course, we will actively go out into the community and, through field surveys and activities, develop an attitude that better understands people who need psychological support.
Training of "mind experts" to support communities
This course will foster mind experts that will support communities through what they learn here.You will be able to acquire the "Certified Psychologist" qualification certified by The Japanese Psychological Association.You will be able to gain fundamental knowledge and techniques to aim for graduate schools necessary to obtain the "Clinical Psychologist" qualification certified by the Foundation of the Japanese Certification Board for Clinical Psychologists.
We also provide a course to become a "Certified Public Psychologist", which is a national qualification.You will be eligible for the exam by taking courses specified by the undergraduate and postgraduate courses, or by engaging in certain work for 2 years or more after graduating with a bachelor's degree.