Teaching Practice
What is "Teaching Practice"? - Grow as a human who is willing to become a teacher -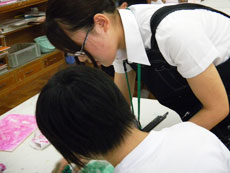 To work as a teacher(professor) in an elementary school, junior high school or high school, it is essential to acquire a Teacher's License. Teaching Practice is one of the essential elements for acquiring a Teacher's License. Going out from the theoretical studies in the University, students will study teaching and class management in the real field of education by practice. This is indispensable for a future teacher to acquire the ability to work as a teacher. This is also an important opportunity for students to reflect if he/she has really acquired what he/she has studied in the University, and to know what he/she will have to further acquire. In this Faculty, Teaching Practice is divided in two parts: Period I and Period II. Period I is for the second and third grades and Period II is for the third and fourth grades. In the Department of School Education, if you wish to acquire multiple Teacher's Licenses, you will have to have other types Teaching Practice in the fourth grade.
In a Teaching Practice, you will become a "teacher" in a school or preschool, living a school life with children and real teachers. At the beginning, they will mainly observe the classes, but step by step you will make teaching plans, give lessons in the actual classroom and give guidance to children in the classes.
Many students who have actually experienced a Teaching Practice say: "The importance of education and schools was reemphasized", "it was more challenging than I had imagined", "I had a sense of fulfillment by teaching", "I found what I was missing", etc.
Is Teaching Practice so difficult? - Learning the teaching method from the schools in Akita pref, which is proven to have the top scholars in Japan -
Every student would be very nervous when he/she experiences Teaching Practice as a "teacher" in a school, not as a child or as a student. But every teacher, whom you met in your young age in the preschool, elementary school, junior high school and high school, had also experienced the same tension in his/her Teaching Practice experience.
Please rest assured, as you will not go to a school for Teaching Practice suddenly without preparation. At first, you will study in detail how to teach and give guidance in a class. Further, before Teaching Practice, you will have opportunities to observe classes in the associated schools and/or preschools, and in the year in which you will experience Teaching Practice, you will have simulation practice and will study about the various works of a teacher.
In the actual Teaching Practice, teachers in each school in Akita prefecture, who have contributed in achieving "No.1 scholars of students in Japan", will give you lectures about how the actual classroom is, what the features of the school are, and how you should prepare for a class and give guidance appropriately to students in each school. Every teacher has a strong devotion in education, equipped with top-class teaching methods, which have been handed down as tradition and also have been improved.
So if you put importance on the studies in the University and are willing to learn from children and teachers, the sense of tension before Teaching Practice will certainly be relieved.
The important thing in Teaching Practice - Learn to become a teacher who can play a part of "human formation" -
You will experience Teaching Practice to form good human relationships with children and to acquire various teaching skills, to become a teacher who can play an important part of "human formation", not for becoming popular among children. In addition to learning teaching in an actual class, you will also learn many types of work to be done by a teacher, which you wouldn't have noticed when you were a child. Each and every piece of work plays an important part of "human formation" of children.
Teaching Practice is an important opportunity for you to learn, to become a "member of society". Not only children but also teachers will treat you well and give guidance to you as a "member of society". For example, punctuality is essential in Teaching Practice. You will have to switch the mode from your daily school life.
"What I learnt from Teaching Practice" - This is the impression that a student "A" had after experiencing Teaching Practice. This will be helpful for you.
I am a student of the Art Education Course for Junior High School. I experienced Teaching Practice in Period I and Period II. The theme of my class in Period II was "Let's draw and make shapes with liquid clay". Liquid clay becomes solid as it dries. We put liquid clay on a board, made marks on it pressing with fingers, enjoying its unique texture, and painted on it after drying.
Following the advice by the supervisory teacher, and also by researching the material by myself, I prepared and distributed coloring materials of predetermined density in plastic cups. But as my research was insufficient, some students said that they could not paint the clay as they wanted because the density of the coloring material was somewhat firm. I felt very sorry for the students. Also, as my explanation of cleanup was insufficient, I had to repeat explaining the same thing.
But at the start of the class the children were excited, wondering "what will we do with these tools and materials?", and to see them wondering how to represent their images they had in their minds, I found the wonder of teaching and also understood how great children are.
Until then, I was wondering if I really wanted to take the teacher employment examination. But after experiencing Teaching Practices in Period I and Period II, I became interested in taking the examination. It was after finishing Period II that I made up my mind to take the examination, so my starting point was much later than that of those who were going to be teachers from the very start. So I have to rush up. Anyway, I will work hard but at my own pace towards the examination, making use of "Stage"(a supporting system of this Faculty for students who take the teacher employment examination).